NYC & Company presenta l'edizione estiva della NYC Restaurant Week che si terrà dal 23 luglio al 17 agosto 2018. Le prenotazioni sono ufficialmente aperte sul sito nycgo.com, dove è già possibile consultare i menu proposti dagli oltre 380 ristoranti partecipanti all'iniziativa, situati in 42 quartieri nei cinque distretti (nella foto in alto il Black Barn).
24 nuovi ristoranti parteciperanno per la prima volta alla NYC Restaurant Week di quest'estate: Baar Baar, Barano, Boucherie Park Avenue South, Cleo, DaDong, Empellón, Fish Cheeks, Gloria, Greenwich Steakhouse, Harvey, La Sirena, Lugo Cucina Italiana, Mifune New York, Naoki Takahashi, Nix, Quality Eats – Nomad, Royal 35 Steakhouse, Scampi NYC, Talde, The Musket Room, The Sea Fire Grill, The Whitby Bar & Restaurant, Trattoria Italienne e Tudor City Steakhouse.
La NYC Restaurant Week si può seguire e condividere anche sui social: gli account ufficiali sono @nycgo e @nycrestaurantweek su Instagram e @nycgo su facebook e twitter. Anche quest'anno sarà attivato un concorso fotografico su Instagram: per partecipare basterà postare un'immagine della propria esperienza alla NYC Restaurant Week e utilizzare l'hashtag ufficiale #NYCRestaurantWeek. I quattro vincitori (uno per ogni settimana del programma) si aggiudicheranno $300 in buoni regalo da utilizzare presso i ristoranti partecipanti.
You might also like
---
More from Food
---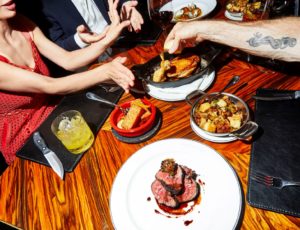 327
Manca poco alla NYC Restaurant Week 2019, che si svolgerà dal 22 luglio al 16 agosto (23 giorni in totale, …
Il Nepal, stretto tra la Cina (Tibet) e l'India, suscita molteplici emozioni: lo splendore dell'Himalaya e il richiamo dell'avventura degli …
Sublimotion, la spettacolare performance gastronomica che unisce alta gastronomia, tecnologia, musica e arti visive scalda i motori per andare in …